Date food: trick her into thinking you're a gourmet cook with this quick and easy meal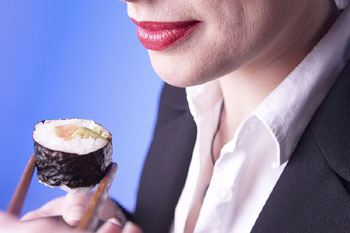 Beef, like this filet mignon, is a great source of CLA--CONJUGATED LINOLEIC ACID--a type of good fat that has been shown in studies to help increase muscle mass and decrease levels of body fat.
Stick with butter when cooking rather than margarine, which has three times the number of evil TRANS FATS.
Dry red wines supply the body with FLAVONOIDS, beneficial plant compounds that keep the blood flowing to all the right places.
You'll look better in the buff with the POTASSIUM in asparagus. It prevents puffiness by helping counteract the water retention salt can cause.
Polenta is packed with carbs, but they're the good kind--capable of boosting levels of a natural feel-good compound called SEROTONIN in both your brain and hers.
The PHOSPHORUS in Parmesan cheese helps fire up the engines within your body's cells, giving you the energy you need to last all night.
SEARED FILET MIGNON WITH PARMESAN POLENTA
AND RED-WINE SAUCE
FOR THE POLENTA
1/2 cup instant polenta
2 cups water
1/3 cup grated Parmesan
tbsp butter
FOR THE FILLETS
1 1/2 tbsp butter
2 (6 oz) filets mignons, about 1 inch thick
1 medium shallot, finely diced cup dry red wine
Salt and pepper to taste
To make: [1] Combine polenta with water. Bring to a boil, stirring
constantly. [2] As mixture thickens, add Parmesan and butter. Stir
until polenta is fully cooked and thickened, about 4 minutes. [3] In
a nonstick skillet over medium-high heat, melt 1 tbsp butter; when it
starts to bubble, add fillets. [4] Cook, turning once, until browned on
both sides and done to your liking (about 12 minutes for
medium). Remove fillets from pan but leave pan on stove.
[5] Add remaining 1/2, tbsp butter and shallots; cook until
softened, 1-2 minutes. [6] Add wine; cook sauce
until 2-3 tbsp of liquid is left (no more than 5 minutes).
[7] To serve, put a small mound of polenta in center of
plate; top with fillet. Spoon sauce over all. [8] Serve
immediately with roasted or steamed asparagus.

Nutrition Facts
Serves: 2
Amount per Serving
Calories 572
Protein 46 g
Carbs 40 g
Fat 23 g
Fiber 6 g
dave's tip
Filet mignon always sounds pretentious and intimidating (it's French--it can't help itself), hut it's probably the easiest meat to cook, and it never fails to taste amazing.