Salad days: rice chills out for an easy weeknight meal - Food: Quick Cook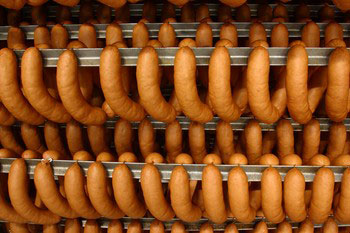 * Fried rice, a savory meal in a bowl, is a wonderful guilty pleasure of Chinese takeout. Richard Wong, the Sausalito, California, creator of Chinablue sauces, put together this version of the classic, taking out all the guilt and leaving the pleasure. He doesn't actually fry the rice; instead, he tosses it with vegetables and his own Sesame Soy Sauce to create a fast main-dish salad, perfect for a summer supper.
Unfried Rice Salad
PREP AND COOK TIME: About 35 minutes
NOTES: This salad is a simplified, lightened version of Richard Wong's original. Make your own seasoning sauce as directed here or, for a shortcut, use a purchased sauce such as his Chinablue Sesame Soy Sauce.
MAKES: 4 servings
2 cups fat-skimmed chicken broth
2 cups long-grain white rice
8 ounces fat-trimmed boned
pork loin or sirloin
1/4 cup sesame-soy sauce (recipe
follows; see notes)
2 Roma tomatoes (8 oz. total)
4 green onions (each 10 in. long)
2 cups frozen petite peas
1 large egg
1/2 teaspoon salad oil
1 quart finely shredded cabbage
(6 oz.; also called angel hair
coleslaw mix)
Soy sauce or salt (optional)
1. In a 2 1/2- to 3-quart pan over high heat, bring broth, 1 1/3 cups water, and rice to a boil. Reduce heat to medium-high and cook, uncovered, until most of the liquid is absorbed, 7 to 10 minutes. Turn heat to low, cover, and cook until rice is tender to bite, 10 to 15 minutes longer.
2. Meanwhile, rinse pork and pat dry; cut into 1/2-inch chunks. In a small bowl, mix pork and 2 tablespoons sesame-soy sauce. Rinse and core tomatoes and cut into 1/2-inch cubes. Rinse green onions, trim and discard ends, and thinly slice (including green tops).
3. When rice is done, scoop into a large bowl. Add frozen peas and mix gently. Let cool slightly about 5 minutes.
4. In a small bowl, with a fork, beat egg lightly. Pour oil into a 10- to 12-inch nonstick frying pan over high heat; tilt pan to coat. Add egg; tilt pan to spread thinly. When egg appears almost set, in 20 to 30 seconds, slide it onto rice; return pan to high heat. With a wide spatula, break egg into 1/2-inch pieces.
5. Add pork mixture to pan; stir until meat is no longer pink in the center (cut to test), 2 to 3 minutes; add to rice. Add tomatoes, onions, and remaining 2 tablespoons sesame-soy sauce to rice; mix gently.
6. Spread cabbage over the bottom of a large, shallow serving bowl; mound rice mixture on top. Add soy sauce to taste.
Per serving: 589 cal., 13% (77 cal.) from fat; 31 g protein; 8.6 g fat (2.1 g sat.); 94 g carbo (8.5 g fiber); 1,000 mg sodium; 87 mg chol.
Sesame-Soy Sauce. In a small bowl, mix 3 tablespoons soy sauce, 1 tablespoon sherry, 2 teaspoons Asian (toasted) sesame oil, 1 teaspoon sugar, and 1 teaspoon minced fresh ginger. Makes 1/4 cup.