What's Cooking; Uses for celery, rhubarb and food shopping in Spain…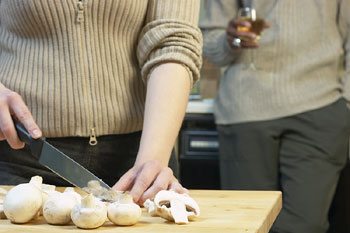 SCalling all foodies! Join us for another edition of What's Cooking , our live online culinary hour with Kim O'Donnel .
A graduate of Peter Kump's New York Cooking School, Kim spends much of her time in front of the stove or with her nose in a cookbook.
Catch up on previous transcripts with the What's Cooking archive page .
The transcript follows.
____________________
Kim O'Donnel: Hello there, good eaters. How's tricks by you? Any good grillng stories to share from the long holiday weekend? No grill action in my world, but my first bite of a local cucumber (greenhouse) and some baby kale. Good eats with some friends and a chance to soak up the sun. I suppose summer is really here now. Tell me something delicious. I'm up for a good tale.
Kalamazoo, MI: What can I cook with rhubarb that isn't a dessert? I love rhubarb, and it's only in season for a short time, but there are only so many desserts a person can eat at once. Do you have any recipes for using it as a side dish, or with meat?
Kim O'Donnel: My producer Miz B is singing the praises of rhubarb ketchup, which she says you can make by blanching the rhube, putting through food processor, with a little onion, red wine vinegar...which you can can serve with steak or chick. How's that sound?
_______________________
Arlington, VA: Ugh -- on Memorial Day, I (unintentionally) made the world's blandest potato salad. What can you add to a basic potato salad recipe to jazz it up?
Kim O'Donnel: Sorry to hear that, Arlington. First thing you can do is make sure you salt that potato water. Very important. Now, are you a mayo kind of potato salader or does it not matter? Even if you like mayo, I think using something to kick it like mustard is key. I like chopped fresh rosemary, garlic, lemon zest...and since I don't use mayo, I tend to do olive oil, lemon juice and zest, even a little white wine, plus I reserve a little of the cooking water just in case things get dry.
_______________________
Washington, DC: Hi Kim -- I need your help! My mom recently found out that she is gluten AND lactose intolerant. Last time she came down here for a visit, we had a miseraable time trying to find things at restaurants that she could eat. She'll be visiting again next week and I'm thinking I'll just cook for her (a bold move for me!) to make things easier. Problem is, I can't find any gluten AND lactose-free desserts, and I know my mom is dying for something sweet that isn't fruit sorbet. It's a random dilemma, I know, but do you have any suggestions??
Kim O'Donnel: This is a real tough one. For dessert, I'd consider fresh figs, with honey and basil...I'd also look at soy-based puddings. I often recommned "Totally Dairy-Free Cooking" by Louis Lanza for the lactose part of the equation, and I think there are some useful non-gluten crusts, etc as well. There's also a group out there for folks like your mom. Have a look at what they're doing: The Gluten Intolerance Group of North America, P.O. Box 23053 , Seattle. WA 98102-0353 206-325-6980
_______________________
Washington, D.C.:
Hi Kim, I'm going to Spain next week--anything I should leave room in my suitcase for, other than the obvious saffron and olive oil? Thanks!
Kim O'Donnel: A paella pan, perhaps? Rice. The short-grained rice called Bomba that's hard to find here. Sherry vinegar. Sherry! Wine! Pimenton (paprika)...oh, you're gonna have fun.
_______________________
Alexandria, VA: Hi Kim! Any creative ideas on what I can do with leftover coffee? Sometimes I make too much when people are over and have quite a bit left - I feel bad about always pouring it down the drain!
Kim O'Donnel: Other than make an iced coffee? Not really. You can keep in fridge for a day or so, but it doesn't really last long. You could make coffee ice cubes for really killer iced coffee.
_______________________
Washington, DC: Is went strawberry picking this weekend and hope to make a strawberry and rhubarb pie. I have a recipie but have no idea where to find rhubarb? Any suggestions?
Kim O'Donnel: Well, maybe we need to put you together with the person who has too much rhubarb...hello local rhubarb sightings???
_______________________
Sharing a Kitchen.:
Hi Kim, I'm going to be moving in with some friends, and sharing the kitchen is the part that worries me. They cook - and cook really well, inventive, interesting, food that they're willing to put time into making. I pretty much stopped cooking years ago, and was never inventive or a particularly good cook. So here's the question: how to handle my share of the cooking in this context? I'll need to be sharing dinner with them once or twice a week anyway, and to be taking turns doing it. (I'm also very poor right now, so stopping at Fresh Fields on the way home isn't the option it used to be.) Help?
Kim O'Donnel: It sounds like you are the only one putting pressure on your cooking abilities. Perhaps, to start, you can strike a deal and clean up when there's a group dinner? Or offer to be the sous chef, doing the chopping, grating, etc. Hang out and learn from your friends. And instead of heading to WF which is expensive on any budget, why not hit the farm market once a week and pick up one new ingredient to add to weekly festivities? You won't spend more than five bucks and you'll make a big splash every week. Take it easy, dear.
_______________________
Indiana: We had a cookout for the whole extended family yesterday. Baked beans (my husband's specialty cookedd with pork sausage, onions and brown sugar), potato salad with celery, onions, a little vinegar and a touch of sugar and salt, pickle relish and celery seed. I use mayo, but my guess is it can be omitted. Topped with sliced hardboiled eggs. Hamburgers into which chopped onions and liquid smoke are mixed before grilling, dogs, brats, toasted buns and all the toppings. Such a good family occasion, winding down around the fire bowl on the patio as the evening cooled. I just wanted to share.
Kim O'Donnel: And I appreciate your sharing, Indiana. I like to imagine the pickle relish and celery seed talking to the liquid smoke all the way in the midwest. Good stuff.
_______________________
Washington, DC: Kim, could you or the crowd hook me up with a source for more Chinese focused shopping? The Han Ah Reum (and other pan-Asian stors) just doesn't do it all for me and I know that with all the Chinese immigrants in Maryland there must be shops with more Chinese products rather than Korean or Thai or Vietnamese. Any tips? Xiexie!
Kim O'Donnel: Good question, dear. I remember a Chinese-focused shop on H Street in Chinatown, but I don't know for sure if it's still open. Anyone know?
_______________________
Rockville, Maryland: You are a great resource.
My mom loves strawberries. Wanted to stick with the traditional and make her a cake for her birthday. Can you suggest any cake recipes with strawberries?
Kim O'Donnel: Dunno if this will do the trick, but it works like a charm everytime, a luscious upside down strawberry rhubarb cake . See if this takes you for a whirl.
_______________________
Ricotta Abundance:
I found myself with many pounds of ricotta cheese due to a botched dinner party and a ziti that was never made. What can I do with it? So far I made a small ziti, a spinach-ricotta pie, and white pizza...any nonpasta-based entree recipe ideas?
Kim O'Donnel: Sorry to hear about the scrapped soiree. Saute a bunch of greens -- arugula or kale or broccoli rabe, with lots of garlic, chiles and some lemon zest. Set aside. Toast up some hunky slabs of country bread. Rub with a clove of garlic. Spread some ricotta on toast and put on broiler. Place greens on top and have a scrumptious open-facer.
_______________________
Da Hua in Chinatown: Alas, it closed.
Kim O'Donnel: Thanks for the report. Where can one go for Chinese groceries in the area?
_______________________
Germantown, MD :
I have always enjoyed Ethiopian food since visiting several restaurants in the Adams Morgan area... and since reading the Food Section of the Post recently with a wonderful recipe for Eithipian Chicken Stew I would like to try making it at home. Any idea where I can get Ehiopian ingredients in my neck of the woods? Thanks.
Kim O'Donnel: There are many options in the DC area for Ethiopian groceries, but in Germantown? I don't know the answer to that question. There are tons of little shops along 18th Street in Adams Morgan and a bunch in south Arlington as well.
_______________________
Hoboken, NJ:
Kim-Love your chats. I'm way short on cash until the 15th (I just moved). Any tips for cheap, yummy, filling, healthy food until then? I have some noodles, sesame oil, soy sauce, brown rice, frozen corn, edamame, and a couple of frozen dinners that are starting to look tastier as my bank account looks leaner. Anything that can be held over for lunches is great too... Thanks!